Glendale Property Division Attorney
Ensure Your Property is Protected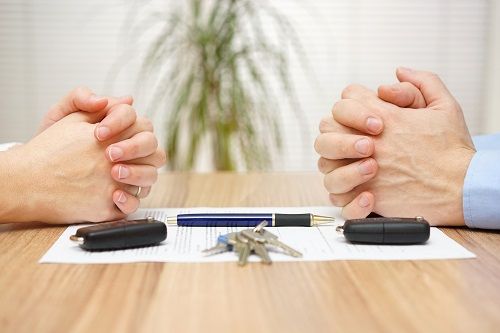 One of the biggest concerns in divorce cases is the distribution of property and assets. Many spouses will feel conflicted regarding large properties such as homes or businesses, and even smaller assets can cause a headache. If you are filing for divorce in Glendale, Pasadena, Burbank, or La Canada, do not undertake your proceedings alone.
At Boyamian Law, we have years of experience in handling complex divorce and family law cases, and we will help you maintain possession of the property that you deserve. We serve those in Burbank, Glendale, Pasadena, La Cañada, and all of Los Angeles County.
Contact our firm online or call us at (818) 423-4455 today to speak with a trusted Glendale divorce attorney.
What Is Considered Community Property in California?
According to California law, property could be anything that could be purchased or sold throughout the course of the marriage, which includes homes, cars, bank accounts, insurance plans, businesses, and pensions. In some cases, couples are able to amicably distribute property between themselves without having to go to court, but it is ultimately up to a judge to determine how the property is distributed.
Under state law, property is divided into two categories:
Community property: Anything that was acquired during the marriage could be lumped into the community property category, this includes homes, earnings, and even debt. Any obligation that was undertaken during your marriage that you paid out, or still owe money on, will be community property
Separate property: Anything that was obtained prior to your marriage, such as inheritance, gifts, income, or property purchased prior to marriage may be considered separate property.
There can be gray areas in determining how property is distributed and who owns what, which is why it is important that you retain the assistance of an experience Glendale property division attorney when undergoing any divorce proceedings.
You Need Boyamian Law on Your Side!
If you have been served divorce papers, or if you know that you will soon be filing for divorce, it is important that you speak with a lawyer. Our firm stands ready to provide trusted representation for your case.
For more information on how we can help, contact our Glendale attorneys and schedule a consultation right away. We can be reached at (818) 423-4455.
Testimonials
Read How We've Helped Others
Super organized, knowledgeable, sharp and LA county is their home court and they know the judges. I highly recommend Boyamian Law. - Anush H.

She and her team persevered throughout with razor sharp intellect, superior comprehension of the law, and consistent compassion and charity for me, of which I am deeply grateful. - Lesley V.

All of them communicate with one another and each person knew what was going on in my case. I felt they were personally invested in it. - Robert W.

I also like that it almost seemed like she could be underestimated by the other side, because she is nice, but believe me her brain is always thinking smart and strategically, exactly what you need in the really specialized weird world of family law.

Fantastic attorney, really smart and makes you feel she cares. VERY STRONGLY RECOMMEND, with her you have a great ally! She is dynamite in court and argued for me really well. Could not do better that team Boyamian on your side!

" - George H.

Working with someone that understood the sensitivity of our family case, but still had the legal wherewithal and professional acumen to bring it all together, was a true pleasure. - P.B.
Meet Our Team
Certified Family Law Specialist Available
Taline K. Boyamian
Michael Boyamian
Katrina Castillo Espina
Alfred Movsesyan
Heather Zermeno
Nareh Arakelian
Jessica Cindy Perez
Sarah Menchel
Alexis Perez
Taline K. Boyamian Taline K. Boyamian

Founding Attorney, Certified Family Law Specialist

Michael Boyamian Michael Boyamian

Founding Attorney

Katrina Castillo Espina Katrina Castillo Espina

Associate Attorney

Alfred Movsesyan Alfred Movsesyan

Associate Attorney

Heather Zermeno Heather Zermeno

Associate Attorney

Nareh Arakelian Nareh Arakelian

Associate Attorney

Jessica Cindy Perez Jessica Cindy Perez

Paralegal

Sarah Menchel Sarah Menchel

Paralegal

Alexis Perez Alexis Perez

Legal Assistant
What Sets Us Apart?
Sharp Intellect & Superior Comprehension of the Law
Personalized Solutions

No two cases are the same; we take the time to get to know our clients and ensure they are provided with a solution customized to fit their goals.

Trial-Winning Approach

Our trial-winning attorneys balance their aggressive representation in court with their compassionate, caring support for each client.

Experienced Advocates

With decades of combined experience, our attorneys understand the complexities of your legal matter and will prioritize your goals.

Recognized & Trusted

Our attorneys are members of distinguished bar associations and have garnered top-honor awards for their work within the legal community.